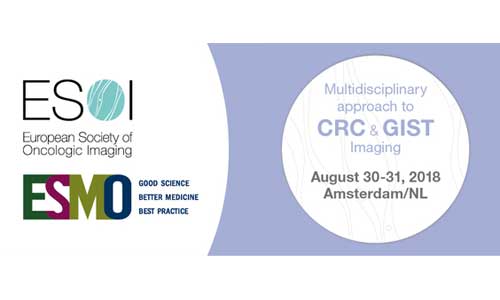 ESOI/ESMO Course 2018
30-31 août 2018
Amsterdam
Site internet :  http://esoi-society.org/index.php?pid=32&lang=1
A multidisciplinary approach to colorectal cancer and gastrointestinal stromal tumour imaging
Overview
The ESOI/ESMO Course 2018 is the first joint course between the European Society of Oncologic Imaging and European Society for Medical Oncology. The course will address the use of imaging in local and systemic treatment in the management of colorectal and gastrointestinal stromal tumours. Lectures given by a multidisciplinary faculty of experts will be alternated by workshops simulating tumour boards with case based discussions by the multidisciplinary teachers. The course will target a forum of medical specialists working in the field of cancer management (medical oncologists, radiologists, radiation oncologists as well as surgical oncologists) who would like to learn more about state of the art cancer imaging.
Learning Objectives
– To provide up-to-date reviews on the use of state of the art imaging in the multidisciplinary management of colorectal cancer and gastrointestinal stromal tumours.
– To provide an update on response criteria to assess response to therapy of these tumours.
– To present the current local and systemic treatment options for colorectal cancer and gastrointestinal stromal tumours.
– To emphasise the importance of multidisciplinarity in the modern management of these tumours.